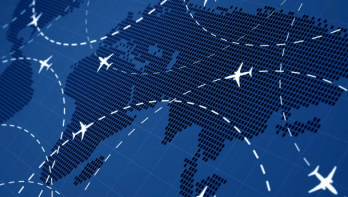 Abstract
The OpenATM service decouples the ATM data service provider (ADSPs) from the air traffic service units (ATSUs) through an open and standardised service interfaces to foster ADSP/ATSU interoperability. Its aim is to provide ATSUs with an interface that allows its own CWP working positions (or other systems that require ATM data as a service) to connect with a remotely located FDPS. The OpenATM service includes correlation, flight data distribution, flight data management, etc.
Service Type
SWIM_DEFINITION
Lifecycle Stage
PROSPECTIVE
Business Activity Type
SERVICE_DELIVERY_MANAGEMENT
Intended Consumer
AIR_TRAFFIC_SERVICE_PROVIDER
Information Exchange Category
FLIGHT_INFORMATION_EXCHANGE
Provider
EUROCONTROL_&_SLOVENIA_CONTROL
This is a partnership between Slovenia Control and EUROCONTROL
General

Operational Needs

In order to facilitate an accelerated development and deployment of the ADaaS concept, MUAC offers the OpenATM service definition describing an open service interface that can be implemented in various multi-vendor scenarios. The current operational MUAC FDPS-CWP interface has been used as a starting point; based on good engineering practices its implementation already accommodates an interface between a data centre and an OPS room using different technologies and manufactured by different suppliers. Additionally, its interface design rationale has not changed since its inception, but has proven in practice that a continuous and flexible extension of its payload contents is possible; thereby not only demonstrating the feasibility to define services, but also demonstrate its maturity and the many aspects needed for commissioning of such services (e.g. performance, safety, security, etc.).

Eurocontrol (MUAC) and potentially Slovenia Control in the future

Functionality

Access and Use

Usage and access conditions have to be agreed between the service provider and the service consumer. Example of restrictions in usage  and access of the OpenATM service: Identified users are granted permission to access and use the OpenATM service according the Terms of Use, provided that they agree not to distribute any part of the delivered data received from the OpenATM service, without prior written authorization from the service provider they agree not to use the OpenATM service for any commercial use unrelated to their service provider's business interests without the prior written authorization of the service provider. o Prohibited commercial uses includes any of the following actions taken without the service provider's express approval: o sale of access to the OpenATM service; o sale of the data delivered via the OpenATM service. Prohibited commercial uses do not include any use that the service provider expressly authorizes in writing.

Quality of Service

Validation

Validation

The Maastricht Upper Area Control Centre (MUAC) established in 2013 the Shared ATS System (SAS), where a virtual centre network solution has been put into operational use, with one air navigation service provider offering shared ATM data services for the benefit of another ATSU in the core area of Europe. With the Shared ATS System the safety, efficiency and cost-effectiveness of a data service solution has been proven.

The ADaaS Demonstrator, designed and developed in cooperation between MUAC and Slovenia Control, is composed of 3 phases:  Phase 1: An ATM infrastructure is setup between MUAC and Slovenia Control where MUAC Controller Working Positions (CWP) installed in Slovenia Control are remotely connected to an FDPS instance in MUAC. The communication between the MUAC FDPS and CWPs is using the legacy interface. It is currently implemented and successful shadow operations have been conducted in June 2016.  Phase2: The interface between FDPS and CWP is changed to an open interface and the Slovenia Control CWP is connected to the MUAC FDPS via this interface. The OpenCWP interface decouples the ATM data service provider (ADSPs) from the air traffic service units (ATSUs) through an open and standardised service interfaces to foster ADSP/ATSU cross-vendor interoperability. Services include correlation, flight data distribution, flight data management, etc. and has been successfully demonstrated in shadow operations in February 2017. Phase 3: The distributed architecture that allows remotely located data service providers to be completely synchronised is established. The identified solution(s) within the Target ADaaS Architecture have been experimentally established, in order to validate the assumptions and uncertainties of such architecture. Its feasibility has been demonstrated in shadow operations in November 2017

Concepts

Abbreviations
Information

Information Definition

The information definition is described in section 4 Exchanged Information of the specification document (see SERVICE_SPECIFICATION in service documents). The AIRM semantic correspondence is established in a separate document (see AIRM_TRACE in service documents).

Data Structures
Technical

Security Mechanism

Private VPN can be established with SLA agreement with network provider

IPSec tunnelling can be established over the internet

Authentication performed at application level

Technical Constraint

The service instance is expected to be running at the service consumer site in a fully secure environment.Other possible constraints would be part of a service level agreement to be established and agreed between the service provider and the service consumer.

Service provider and consumer remain time-synchronized via NTP with their own time servers.

Service Monitoring

See HeartbeatDistribution Interface.
Interfaces
References
Revision Save Date
Wed, 06/29/2022 - 16:16
The service description has currently reached the "PUBLISHED" status.