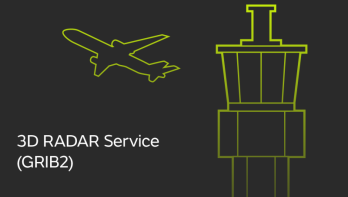 Abstract
The Pan-European 3D RADAR Service aims to provide a SWIM Compliant access point to high resolution RADAR data in Grib2 format, including multiple vertical Flight Levels of horizontal reflectivity to visualise the depth and intensity of convection and a series of derived 2D products to evaluate storm severity and assess potential for hail. Data is available at two resolutions: one dataset covers FABEC and UK-Ireland FAB at a 5-minute temporal and 1km horizontal resolution (this 1km product also includes pre-defined spatial subsets), the other covers the wider European geographical area at a 15-minute temporal and 2km horizontal resolution. These products are currently CANDIDATE services and are being exposed by the Met Office now in order to gain feedback on them from external reviewers, they are NOT to be used operationally. In the future they may provide applications for use both strategically in the flight planning phase and in the in-flight phase. This RADAR provision will provide greater situational awareness and enhance safety through pro-active decision making, greater efficiency routing aircraft, reduced fuel burn and informing capacity/constraint management at an earlier stage. They can also be used tactically by specialists and air traffic control to provide in-flight updates. Authorised aviation stakeholders include European Air Traffic Management users, Eurocontrol Network Managers, State ANSPs, airlines, and airports. This data is also available for use by MET ANSPs for Official Duty purposes only. Additional benefits to this service include providing datasets for long term aviation analysis, algorithm development and verification, reduced flight delays, improved safety and fuel efficiency. Please refer to the point-of-contact for further enquiries with regards to authorisation to access this service. Severe convection is a major aviation hazard because this can lead to structural damage to aircraft and cause fatalities. There is an operational need for an authoritative source of 3D RADAR Data across the Pan-European domain for consistent situational awareness and avoidance of hazardous areas of airspace. Pan-European 3D RADAR composites are generated at both the Met Office and Meteo France from radar data contributors. The input radar data of this service has been provided via OPERA, the Radar Programme of EUMETNET, and has been processed and made available by the Met Office and Météo-France.
Service Type
SWIM_CANDIDATE
Lifecycle Stage
PROSPECTIVE
Application Message Exchange Pattern
SYNCHRONOUS_REQUEST_REPLY
In-Operation Date
01-Jun-2021
Provider
UK National Weather Service
Support
Support services available 24/7 via Met Office Customer Service Number 0370 900 0100
Point of Contact
Business stakeholders: To sign up, please provide your full name, organisation, business email address, business telephone number, industry (European Air Traffic Management, Eurocontrol Network Manager, State Air Navigation Service Provider, Airline, Airport – If "other" please specify).
Revision Save Date
Wed, 06/29/2022 - 16:47
The service description has currently reached the "PUBLISHED" status.