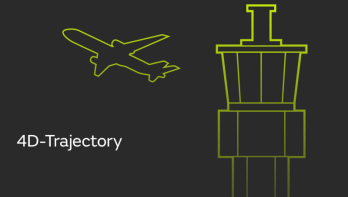 Abstract
The Met Office 4D Trajectory API service supplies global meteorological data for tailored flight trajectory requests, to support flight planning services and software products. The benefits of exploiting 10km resolution meteorological data for flight planning and in-flight decision making include:
Save fuel costs
Reduce CO2 emissions
Improve Flight Management Computer (FMC) calculations to save fuel
Supply notifications of weather hazards for situational awareness and improved safety
Trajectory requests allow the user to specify a latitude, longitude, atmospheric height, date/time and weather parameters, to map meteorological data to a flight trajectory. (See API Specification)
Two API's are available to supply the following weather parameters:
The 'MAIN' dataset includes our core weather parameters for aviation operations (Winds, Temperature, Relative Humidity).
The 'HAZARDS' dataset includes turbulence severity

Icing and CB Cloud Base/Top Height could be made available in due course
Convection data is currently available in 17km resolution, please note that the Met Office is currently undertaking validation work to supply 10km resolution CB data.
This API service conforms to the Open Geospatial Consortium Environmental Data Retrieval (EDR) Specification, delivering data in coverage JSON format.
Available March 2022.
Service Type
SWIM_CANDIDATE
Lifecycle Stage
PROSPECTIVE
Application Message Exchange Pattern
SYNCHRONOUS_REQUEST_REPLY
In-Operation Date
31-Mar-2022
Provider
UK National Weather Service
Provider Type
REGULATED_METEOROLOGICAL_SERVICE_PROVIDER
Revision Save Date
Mon, 02/27/2023 - 11:26