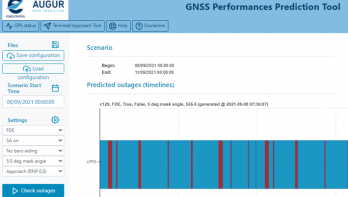 Abstract
AUGUR is the web-based service provided by EUROCONTROL for RAIM availability prediction. The AUGUR service is one means by which airspace users can comply with the EASA requirements to verify RAIM availability during pre-flight planning.
Service Type
SWIM_CANDIDATE
Lifecycle Stage
OPERATIONAL
Information Exchange Category
AERONAUTICAL_INFORMATION_EXCHANGE
Application Message Exchange Pattern
Aerodrome ICAO Location Indicator
In-Operation Date
12-Jul-2021
Provider
EUROCONTROL is an intergovernmental organisation with 41 Member and 2 Comprehensive Agreement States.
Point of Contact
To reports incidents on services in operation
Revision Save Date
Wed, 06/29/2022 - 16:40
The service description has currently reached the "PUBLISHED" status.