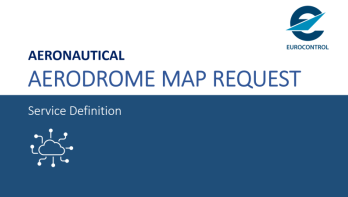 Abstract
The Aeronautical Aerodrome Map Request Service provides a capability for on-request aeronautical aerodrome maps that are generated from aerodrome mapping data. Note: Aerodrome mapping data are based on the ICAO Annex 15 notion of aerodrome mapping data and the related aerodrome mapping datasets. Aeronautical aerodrome maps are a graphical representation of aerodrome mapping data. The service generates aeronautical aerodrome maps from current or next AIRAC cycle aerodrome mapping data available in the service back-end. The service encodes the aeronautical aerodrome maps in a graphical format. The consumer of the service can specify in the aerodrome map request: - the individual aerodrome, - the aerodrome map layers to be included, and - the geographical area of interest. The provided aeronautical aerodrome map is used in visualisation contexts as a backdrop map. The service capability enables various use cases (e.g. Digital NOTAM overlay in ePIB applications). The Aeronautical Aerodrome Map Request Service definition provides a common specification for the implementation of Aeronautical Aerodrome Map Request Service instances that conform with EU Implementing Regulation 2021/116 - Common Project One. Note: In the context of European SWIM deployment the Aeronautical Aerodrome Map Request Service capability realizes the SESAR Deployment Programme Aerodrome Mapping Service - Map part. The capability to request airport layout features (i.e. aerodrome mapping data) is realized by the Aeronautical Information Request Service.
Service Type
SWIM_DEFINITION
Information Exchange Category
AERONAUTICAL_INFORMATION_EXCHANGE
Application Message Exchange Pattern Entity
Provider
EUROCONTROL is an intergovernmental organisation with 41 Member and 2 Comprehensive Agreement States.
Revision Save Date
Tue, 06/20/2023 - 16:40