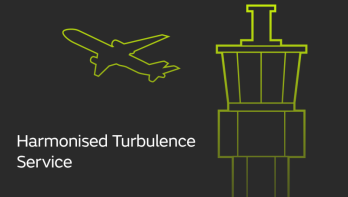 Abstract
The Harmonised Turbulence Service aims to provide a SWIM Compliant access point to harmonised turbulence data in GRIB2 format, including a map spanning the pan-European domain and functional airspace block subsets. Also available are GeoJSON polygons marking intensity levels for the pan-European domain (not subsets). This service is currently non-operational until legal constraints are confirmed. The turbulence forecasts indicate areas of LIGHT, MODERATE and SEVERE turbulence (Intensity Levels 1, 2 and 3). The products are intended to be used strategically in the flight planning phase and for flight briefings. They can also be used tactically by specialists and air traffic control to provide in-flight updates. Authorised aviation stakeholders include European Air Traffic Management users, Eurocontrol Network Managers, State ANSPs, airlines, and airports. Additional benefits to this service includes providing datasets for long term aviation analysis, algorithm development and verification, reduce flight delays, improve safety and fuel efficiency. Please refer to the point-of-contact for further enquiries with regards to authorisation to access this service. Atmospheric turbulence is a major aviation hazard because this can lead to structural damage to aircraft, and cause injuries to passengers and crew. There is an operational need for an authoritative source of turbulence data across the Pan-European domain for consistent situational awareness and avoidance of hazardous areas of airspace.
Service Type
SWIM_CANDIDATE
Lifecycle Stage
PROSPECTIVE
Application Message Exchange Pattern
SYNCHRONOUS_REQUEST_REPLY
In-Operation Date
01-Jun-2021
Provider
UK National Weather Service
Support
Support services available 24/7 via Met Office Customer Service Number 0370 900 0100
Point of Contact
Business stakeholders: To sign up, please provide your full name, organisation, business email address, business telephone number, industry (European Air Traffic Management, Eurocontrol Network Manager, State Air Navigation Service Provider, Airline, Airport – If "other" please specify).
Revision Save Date
Wed, 06/29/2022 - 16:47
The service description has currently reached the "PUBLISHED" status.