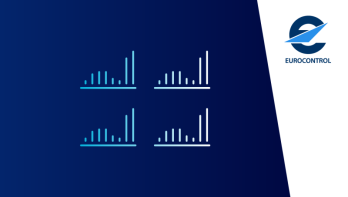 Abstract
This NM B2B Service supports the querying of traffic counts, based on a number of criteria like aircraft operator, aerodrome or aerodrome set, airspace, point, traffic volume, etc.
The service is provided by the EUROCONTROL Network Manager (NM), with the geographical extent of the IFPZ, and is in operations since March 2015, having been progressively updated. The service is part of the NM B2B Flow Services group.
The traffic counts on a geographical area can be provided either based on entry times in the area or on occupancy times. These counts are made available for distinct traffic types: the demand, the regulated demand, or the current load.
This service is targeted for the local Air Traffic Flow Management (ATFM) Units, enabling a common view of the network situation and identification of bottlenecks in support of the collaborative decision making for the establishment of flow measures.
Service Type
SWIM_COMPLIANT
Lifecycle Stage
OPERATIONAL
Intended Consumer
AERONAUTICAL_INFORMATION_SERVICE_PROVIDER
AIR_TRAFFIC_SERVICE_PROVIDER
AIRPORT_OPERATOR
AIRSIDE_GROUND_HANDLER
CIVIL_AIR_NAVIGATION_SERVICE_PROVIDER
CIVIL_AIRSPACE_USER
COMMUNICATION_NAVIGATION_AND_SURVEILLANCE_SERVICE_PROVIDER
MILITARY_AIR_NAVIGATION_SERVICE_PROVIDER
MILITARY_AIRSPACE_USER
MILITARY_DEFENCE_CENTRE
NETWORK_MANAGER
PROVIDER_OF_DATA_SERVICES
REGULATED_METEOROLOGICAL_SERVICE_PROVIDER
Information Exchange Category
COOPERATIVE_NETWORK_INFORMATION_EXCHANGE
Application Message Exchange Pattern
SYNCHRONOUS_REQUEST_REPLY
State ICAO Nationality Letters
In-Operation Date
26-Apr-2022
Provider
EUROCONTROL Network Manager
Revision Save Date
Wed, 06/29/2022 - 16:48
The service description has currently reached the "PUBLISHED" status.