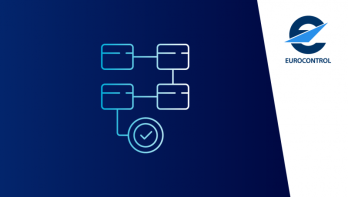 Abstract
This NM B2B Service supports the publication of flight data and the management of the flight state for ATFCM purposes, as well as the A-CDM process and the integration of the Airport Operations Plan and the Network Operations Plan (AOP/NOP).
The service is provided by the EUROCONTROL Network Manager (NM), with the geographical extent of the IFPZ, and is in operations since March 2010, having been progressively updated. The service is part of the NM B2B Flight Services group.
Flights can be retrieved based on many criteria, like their identity (flight keys and registration mark), or aircraft operator information, or departure/arrival aerodromes (and aerodrome sets), or traversed airspaces and traffic volumes, flown points, or impacting measures and hotspots, etc.
The flight data that can be retrieved per flight contains all the up-to-date information NM has about the flight, including the different flight profiles (point profile, airspace profile, etc.), and its position (if airborne).
The service allows also a number of flight update operations, e.g. aircraft, departure, en-route information. All the traditional NM ATFCM messages are supported, like Flight Confirmation (FCM), Slot Missed (SMM), Ready to Depart (REA), Slot Improvement Mode (RFI and SWM), etc.
The service supports the information exchange needed for the A-CDM processes by providing operations for the exchange of the Departure Planning Information. Additionally, the service is the enabler for the AOP/NOP integration, by providing operations for the exchange of Extended Departure Planning Information (E-DPI) and Arrival Planning Information (API).
Access to flight information can be done via the request/reply operations of this service and via the NM B2B Publish/Subscribe (P/S). The subscription mechanism allows to set a variety of filters for the selection of the flights and allows also to configure which flight data fields must be present in the published messages. The P/S is the ideal means of getting the dynamic flight updates in a timely manner.
Given the wide variety of operations, and the global interest on flight data, this service is relevant to all operational stakeholders.
Service Type
SWIM_COMPLIANT
Lifecycle Stage
OPERATIONAL
Intended Consumer
AERONAUTICAL_INFORMATION_SERVICE_PROVIDER
AIR_TRAFFIC_SERVICE_PROVIDER
AIRPORT_OPERATOR
AIRSIDE_GROUND_HANDLER
CIVIL_AIR_NAVIGATION_SERVICE_PROVIDER
CIVIL_AIRSPACE_USER
COMMUNICATION_NAVIGATION_AND_SURVEILLANCE_SERVICE_PROVIDER
MILITARY_AIR_NAVIGATION_SERVICE_PROVIDER
MILITARY_AIRSPACE_USER
MILITARY_DEFENCE_CENTRE
NETWORK_MANAGER
PROVIDER_OF_DATA_SERVICES
REGULATED_METEOROLOGICAL_SERVICE_PROVIDER
Information Exchange Category
FLIGHT_INFORMATION_EXCHANGE
State ICAO Nationality Letters
In-Operation Date
26-Apr-2022
Provider
EUROCONTROL Network Manager
Revision Save Date
Wed, 06/29/2022 - 16:48
The service description has currently reached the "PUBLISHED" status.