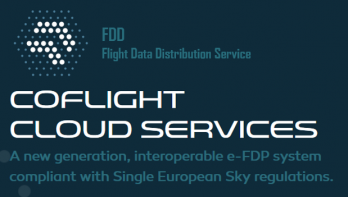 Abstract
This Service is part of Coflight Cloud Services (CCS), which are primarily designed to support the Virtual Centre concept. As such, these CCS Services support the interactions between the CCS ATM Data Service Provider (ADSP) and Virtual Centre Air Traffic Service Units (ATSUs). The CCS FlightDataDistribution service is consistent with the other CCS services. It supports:
- the distribution of Flight Plan information every time an update of a relevant Flight Plan is processed by the ADSP. The modifications of the Flight Plans can be triggered from several sources (other CWPs or functionality of the ADSP).
- The distribution of Erroneous AFTN messages information referred to FDO for manual correction, every time an AFTN message reception fails Coflight checks. This version of the service is intended to be used in 'test mission', which aims at providing services and support to the Customer(s) to enable them to test any version of their ATM system during development.
Service Type
SWIM_CANDIDATE
Intended Consumer
CIVIL_AIR_NAVIGATION_SERVICE_PROVIDER
Information Exchange Category
FLIGHT_INFORMATION_EXCHANGE
Aerodrome ICAO Location Indicator
No Information Provided
FIR ICAO Location Indicator
No Information Provided
State ICAO Nationality Letters
No Information Provided
In-Operation Date
No Information Provided
Provider
DSNA: the French air navigation service provider
ENAV; the Italian air navigation service provider
Provider Type
CIVIL_AIR_NAVIGATION_SERVICE_PROVIDER
Support
No Information Provided
Point of Contact
Coflight Cloud Services Program Director - To request access to the CCS service
Email
Guillaume.Ramonet@aviation-civile.gouv.fr
Telephone
No Information Provided
For Incidents on services in operation, contact the Service desk [working hours/opening days] as described in the related support service (incident management) supplied by CCS provider to CCS customer during the procurement phase
Email
No Information Provided
Telephone
No Information Provided
General

Operational Needs

Operational Need

CCS FlightDataDistribution Service supports:

- the distribution of Flight Plan information every time an update of a relevant Flight Plan is processed by the ADSP,

- the distribution of Erroneous AFTN messages information every time an AFTN message reception fails Coflight checks.

Functionality

Description

Publish erroneous AFTN messages

Real World Effect

All subscribers receive the AFTN messages information concerning the erroneous AFTN messages that need to be referred to FDO for manual correction.

Description

Publish flight data

Real World Effect

All subscribers are informed of any change on the flight plan information of a flight when this flight is updated

Access and Use

Quality of Service

The service level objectives regarding the availability, response time, throughput and recoverability of CCS Services depend on the purpose (mission) for which the Customer intend to use them (e.g. integration, test, training, operational purpose). These service level objectives are therefore negotiated with the Customers, based on their safety analysis, and are detailed in the specific Service Level Agreement established with each CCS Customer.

The minimum Bandwidth required to consume CCS services (hypothesis for the technical integration service of 300 simultaneous flight managed by the system) is 10MB/s.

Customer ATSU shall restrict the overall rate of requests to a maximum of 720 request/minutes. The detailed rate limitation per services is detailed in the associated swim service description of each service.

Validation

It has been complemented by COLLABORATIVE_VALIDATION with operational service consumers. The whole process is bieng supervised under EASA Authority.

Concepts

Concepts

No Information Provided

Abbreviations
Information