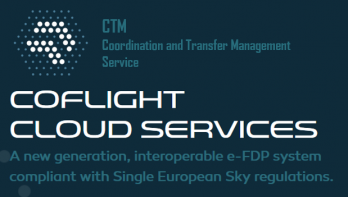 Abstract
This Service is part of Coflight Cloud Services (CCS), which are primarily designed to support the Virtual Centre concept. As such, these CCS Services support the interactions between the CCS ATM Data Service Provider (ADSP) and Virtual Centre Air Traffic Service Units (ATSUs). The CCS CoordinationAndTransferManagement service is consistent with the other CCS services. It addresses the CWP manual interactions for managing Coordination and Transfer operations, and is to be used for automatic coordination of standard conditions as well as for manual coordination of non-standard conditions. This version of the service is intended to be used in 'test mission', which aims at providing services and support to the Customer(s) to enable them to test any version of their ATM system during development. Please note that the use of CCS CoordinationAndTransferManagement service implies the use of CCS FlightDataDistribution Service to get the output coordination and transfer information, i.e.:
- Current status of coordination and transfer of flights between the crossed controller positions (AoR)
- On-going Change proposals for those coordination and transfer
Service Type
SWIM_CANDIDATE
Intended Consumer
CIVIL_AIR_NAVIGATION_SERVICE_PROVIDER
Information Exchange Category
FLIGHT_INFORMATION_EXCHANGE
Application Message Exchange Pattern
SYNCHRONOUS_REQUEST_REPLY
Aerodrome ICAO Location Indicator
No Information Provided
FIR ICAO Location Indicator
No Information Provided
State ICAO Nationality Letters
No Information Provided
In-Operation Date
No Information Provided
Provider
DSNA: the French air navigation service provider
ENAV; the Italian air navigation service provider
Provider Type
CIVIL_AIR_NAVIGATION_SERVICE_PROVIDER
Support
No Information Provided
Point of Contact
Coflight Cloud Services Program Director - To request access to the CCS service
Email
Guillaume.Ramonet@aviation-civile.gouv.fr
Telephone
No Information Provided
- For Incidents on services in operation, contact the Service desk [working hours/opening days] as described in the related support service (incident management) supplied by CCS provider to CCS customer during the procurement phase
Email
No Information Provided
Telephone
No Information Provided
General

Operational Needs

Operational Need

CCS FlightDataManagement Service addresses the CWP manual interactions for managing Flight Plan updates related to inputs made by the controller or by the Flight Data Operator. It addresses operations related to:

- the System Flight Plan Data: Create, Cancel, Delete, Retrieve, Create Abbreviated and Non tactical modifications,

- to ATC Instructions: Holding, Heading, Speed, CFL, ROCD, EFL, XFL, DirectTo, ClearedTo, RFL and ECL,

- the correction of erroneous AFTN messages,

- WhatIf: Accept/Reject and Open/Close.

Note: in this version of the document, CCS FDM contains all the operations listed above except those related to WhatIf.

Functionality

Access and Use

Quality of Service

The service level objectives regarding the availability, response time, throughput and recoverability of CCS Services depend on the purpose (mission) for which the Customer intend to use them (e.g. integration, test, training, operational purpose). These service level objectives are therefore negotiated with the Customers, based on their safety analysis, and are detailed in the specific Service Level Agreement established with each CCS Customer.

The minimum Bandwidth required to consume CCS services (hypothesis for the technical integration service of 300 simultaneous flight managed by the system) is 10MB/s.

Customer ATSU shall restrict the overall rate of requests to a maximum of 720 request/minutes. The detailed rate limitation per services is detailed in the associated swim service description of each service.

Concepts

Concepts

No Information Provided

Abbreviations
Information

Information Definition

Data Structures
Technical

Security Mechanism

Mutual authentication with X509 certificates is used between the AMQP broker and its client established within a TLS session

TLS 1.2 is used to provide confidentiality and integrity at transport layer.

IPsec is used to provide confidentiality, authentication and integrity at network (internet) layer

Technical Constraint

Monitoring Description

CCS services are supervised in real time by trained and licensed ATSEPS

. A dedicated service to supervise the complete CCS swim services portfolio is available to the customer.
For more information, please refer to the swim service description of the CCS technical supervision distribution service

Interfaces

This Service Interface exposes the set of basic operations needed for Coordination and Transfer.

SWIM_TI_YP_1_0_AMQP_MESSAGING

SYNCHRONOUS_REQUEST_RESPONSE

Operations

Endpoints

Address

For security reasons, the adresses will be communicated only to Customers

Description

No Information Provided

Interface Binding Description Overview

Information is exchanged in Protobuf format. Protocol buffers or Protobuf are Google's language-neutral, platform-neutral, extensible mechanism for serializing structured data similar to XML, but smaller, faster, and simpler.

Interface Binding Configurations

Behaviour

The detailed behavior of the service is provided in each operation dedicated section
References

Service Documents

Service Description Document (SDD) from PJ.16-03 on which the CCS Service is based

 

Protobuf files describing the exchanged information

Complete service specification

Implemented Standards
Revision Save Date
Wed, 07/01/2020 - 10:46
The service description has currently reached the "PUBLISHED" status.